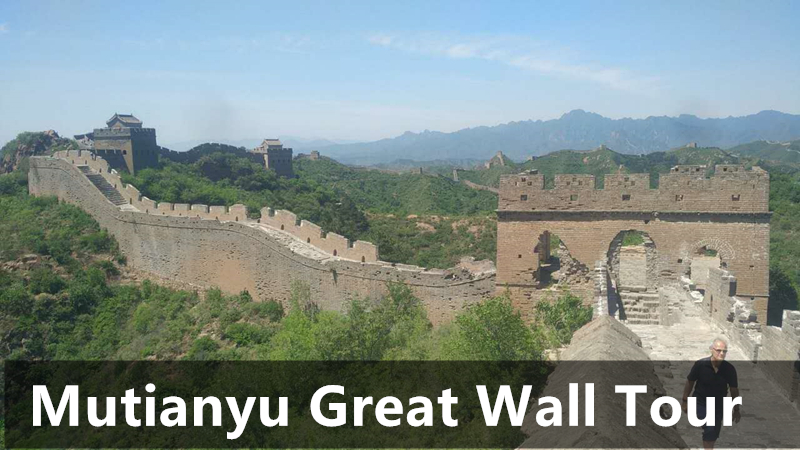 Mutianyu Wall (Chinese: 慕田峪; pinyin: Mùtiányù) is a section of the Great Wall of China

located in Huairou County70 KMs northeast of central Beijing, According to customer experience,
it has become the most popular section Wall in the whole 240 KMs distance GreatWall(Jinshanling
Wall, Badaling Wall, Huanghuacheng Wall, Juyongguan Wall,Simatai Wall, Jiankou Wall, Shu

guan Wall).
Highlights of Mutianyu Wall:
Less group tourist
Popular Cable car and Toboggan down.
Easy walking on Flat Wall
Flexible lunch near Mutianyu Wall.
5 Flexible Options for Hire Car (Toyota Camry, 4 seats available maximum)
with Driver/Guide to Mutianyu Great Wall Private Tours.
Option A: 650 RMB: Reliable Chinese Speaking Driver
This option is suitable for tourists with limited budget such asyoung students. If your group does not have up to 4 guests, you may share our carwith other guests joining this tour.
OptionB: 750 RMB: English Speaking Driver, a Better Option A.
Our driver who has gotten more than 50 excellent reviews on TripAdvisor will help you buy entrance tickets and wait for you at the parkinglot while you enjoy the Great Wall.
Option C: 950 RMB:Super English Speaking Driver,a Better Option B.
Skip the line at the visitor center and shuttle bus station to avoid going through gift shops as our driver will drop you off at the VIP parking lot near the entrance to the Great Wall.
Option D: 1300 RMB: English Speaking Guide & Private Car
Our experienced guide will escort you, hiking on the Great Wall with you, pointing out the best locations for photos and even taking pictures for you if you desire. We highly recommend this option if you want to know morehistory about the Great Wall and China in general.
Option E: 1500 RMB: Knowledgeable English Speaking Guide & Private Car, Our VIPPackage
Skip the line at the visitor center and shuttle bus station aswe will go directly to the VIP parking lot near the entrance to the Great Wall. This will giveyou more time to enjoy the Great Wall. This option includes everything mentionin Option D.
Included/Excluded:
The price of each of the options above is per car with the driver, not per guest. We will take care of the gas, highway tolls and the parking fees. Bottled water will be provided, free of charge. The Great Wall entrance fees, meals, other refreshments and gratuities are not included.
Reservation/Payment:
Please pay a deposit of 66 USD (400 RMB, including exchange fee)at our account on PayPal.com to confirm your reservation:
http://www.best-our.com/nshow.asp?nid=X4i=&c=2
PayPal account number: mark520bj@hotmail.com
The balance will be paid directly to the driver in cash.
Suggested Itinerary:
Pick up at 7:30 a.m. at your hotel lobby. This is about a 90 minute ride from downtown Beijing to Mutianyu Great Wall.
(Recommended pick up time is 7:30 a.m. to avoid traffic jam and crowd but pick up time can be flexible from 6 a.m. to 3 p.m. by request.)
Visit the Great Wall typically from 9 a.m. to12:30 noon and you get to experience the Great Wall for about 3 hours.
Lunch time 12:30 -1:30 p.m. (Optional)
Drop you off at your hotel around 3:30 p.m.
Additional Information:

We provide all other sections of the Great Wall Tours:
Jinshanling Wall, Badaling Wall, Huanghuacheng Wall, Juyongguan Wall, Simatai Wall, Jiankou Wall and Shuguan Wall. Please do not hesitate to email me with any questions.
6-15 seats vehicles or bus costs a little extra, do not hesitateto email me with any questions.
Beijing Airport layover to Mutianyu Wall (60 KMs & 70 minuteride) is available. We will pick you up at the airport lobby with a sign of your NAME and drop you off at the airport or a flexible location.
No hidden costs and no shopping stops.
Mutianyu Wall entrance fee is 60 RMB per person, child price is45 RMB per person.
The cable car or toboggan return ticket is 120 RMB per personround trip, 100 RMB per person for one way ride.
There are other ways to get down but the cable car or tobogganis the most popular.
The whole tour is about 8 hours in total, extra 100 RMB perhours is charged after 8 hours if you need stay longer exploring the GreatWall.
Bring snacks as it's nice to sit down and have a snack on theWall.
Baby car seat cost is 100 RMB per day, please let us know yourbaby's size in advance.



We know all of the nearby restaurants on the way to and from Mutianyu Great Wall. There are some restaurants, coffee shops and ATM machinesat the Great Wall Tourist Centre, such as Burger King, Subway and a Chinesedumplings place.



There is no extra charge to drop you off at attractions such asthe Forbidden City, Lama Temple, etc. However the Summer Palace and other attractions are not on our way back to the city and there will be some extracost. Please let us know your plan in advance.
Use mark520bj@hotmail.com to book a tour: (You will get driver/guide details after the deposit is made.)
In order to serve you and plan your itinerary better, please letus know the following:
- Your full name
- Pickup time desired
- Which option (A, B, C, D or E) that you prefer
- Date of your booking
- Number of people in your group
- The hotel name, address and telephone number, where you willbe picked up
- Your nationality and language
- Any special requirements/vegetarian/drop off location